Dancer Ruby in Silvio Berlusconi scandal 'to marry'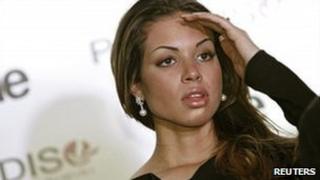 The Moroccan teenage dancer at the heart of a scandal involving Italian Prime Minister Silvio Berlusconi has told a newspaper she plans to marry.
Karima "Ruby" El Mahroug, 18, told La Repubblica she would marry her fiance, 41-year-old disco manager Luca Rizzo, and live in the northern city of Genoa.
The belly dancer said she would like to finish high school.
Asked about Mr Berlusconi, accused of sex with an under-age prostitute, she said he was a "lonely" man.
Miss Mahroug, who turned 18 in November, has always denied having sex with the prime minister when she was 17.
She admitted accepting a "gift" of 7,000 euros (£5,900; $9,400) after attending a party held by the head of Italy's government last year.
Mr Berlusconi, 74, also denies having sex with Miss Mahroug.
He has refused to attend questioning and has vowed to punish magistrates who, he insists, are pursuing a political vendetta against him.
Prosecutors are planning to submit a request early next week for the prime minister to face a fast-track trial, media reports say.
An IPR opinion poll carried by La Repubblica on Wednesday suggested that his popularity rating had fallen from 40% to 35% since December.
'Struggling with loneliness'
Speaking in an interview for La Repubblica's Genoa edition, Miss Mahroug said she and her fiance planned to have a civil marriage in three weeks' time, followed by a church wedding in June.
She was, she said, "not at all" worried about the investigation into Mr Berlusconi, pointing out that she only featured in it as a witness.
On her feelings about Mr Berlusconi, she said: "He [Mr Berlusconi] is alone and struggling with loneliness, a bit like myself," she said.
Asked whether she would choose to be Ruby if she could relive her life, she said: "If I could go back, I would not do it again."