Turkey factory blasts: Ankara explosions kill 16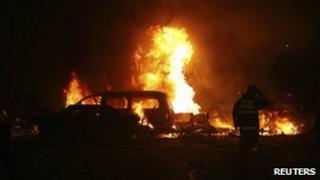 Two explosions after a gas leak in an industrial zone in the Turkish capital Ankara have left 16 people dead and many injured.
The first blast brought down two floors of a generator factory on Thursday morning after a fault in a gas tank.
Rescue teams with sniffer dogs were still searching the rubble after nightfall when the second blast occurred in a nearby paint factory.
Toxic chemicals and flames hampered the rescue effort.
Most of the victims died in the second explosion in the Ostim industrial zone.
Reports differ as to whether natural gas or oxygen tanks ignited in the generator factory.
According to Turkish newspaper Hurriyet, the second blast was sparked by a vehicle fire which had spread to the paint factory.
The generator factory was operating without a licence and the paint factory was operating under a lathe workshop licence, Labour Minister Omer Dincer was quoted as saying.