Italy jails four Serbs for Genoa football riot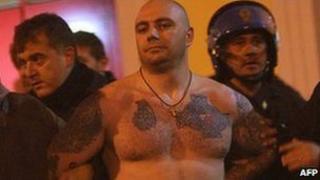 An Italian court has jailed four Serbian football fans who started a riot at a Euro 2012 qualifying match in Genoa, forcing it to be abandoned.
Ivan Bogdanov, who sparked the riot by mounting a crowd barrier and hurling fireworks on to the pitch, was jailed for three years and three months.
The hooligan was dubbed "Ivan The Terrible" by Italian media
Three other Serbian fans received slightly shorter sentences at the trial in Genoa.
Uefa awarded Italy a 3-0 win over Serbia after the 12 October 2010 match, which was stopped in the seventh minute with the score 0-0.
Uefa also ordered Serbia to play its next home match against Northern Ireland, on 25 March, in an empty stadium.
Wearing a black face mask, Bogdanov had climbed on to a barrier separating fans from the field and used a wire cutter to slice apart a mesh fence.
He encouraged other Serbia fans to join in the riot.
Defence lawyer Riccardo Di Rella said after the trial: "They come from a culture where you're punished if you make a mistake. They know they have committed a crime."