Stirling Australia ex-mayor denies mafia reports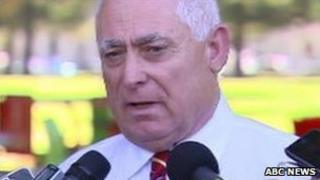 A former mayor of the west Australian city of Stirling has denied Italian reports linking him to the feared 'Ndrangheta mafia.
Italian media said a warrant had been issued for the arrest of Tony Vallelonga, who served as mayor of the city near Perth from 1997-2005.
Italian police announced a wave of arrests on Tuesday.
A lawyer for Mr Vallelonga said his client had not been detained and no warrant had been issued.
Australian Federal Police confirmed they had received a request for assistance from Italian authorities but said the matter was being dealt with on a government-to-government level, the Australian broadcaster ABC reports.
They spoke after a police chief in the Italian region of Calabria - where the 'Ndrangheta has its roots - confirmed that Mr Vallelonga had been named in their investigation.
Renato Cortese said police had recorded several conversations Mr Vallelonga is alleged to have had with a local mafia identity, and Italian police had asked their Australian counterparts for help.
'Absolutely outrageous'
Mr Vallelonga, who emigrated from Calabria to Australia more than 40 years ago, said the Italian reports were upsetting.
"I believe a man like myself who worked very hard for the community over the years, in not only a charitable organisation, retirement village, you name it - I've always been an outstanding citizen," he said.
"And this hurts my family," the former mayor of Stirling, which has a population of nearly 200,000, added.
John Hammond QC, representing Mr Vallelonga, said his client had not been charged and that according to the Australian Federal Police, no arrest warrant had been issued.
"What is being said about Mr Vallelonga is absolutely outrageous," he said.
"He has no dealings with the mafia, he is a man of impeccable standing in the West Australian community and his friends today are standing by him, so allegations being made in the press either directly or by innuendo are defamatory of my client and they are very dangerous."
On Tuesday, police in Italy and Germany arrested 35 people, and Italian police said warrants had also been issued in Australia and Canada.
The operation targeted the 'Ndrangheta, believed to be the most powerful mafia in Italy thanks to its hold on the European cocaine trade.
It has carried out many vendetta killings in recent years including the massacre of six men in Duisburg, Germany, in August 2007, Italy's Ansa news agency said.
Those arrested on Tuesday were suspected of crimes including robbery, murder, drug trafficking, protection rackets, money laundering and possession of arms and explosives.