Berlusconi's Italy: Controversial reform bill unveiled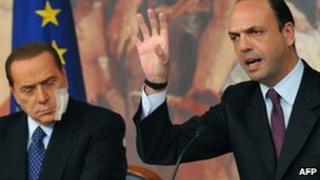 A controversial bill to split up Italy's judiciary has been unveiled in Rome by Prime Minister Silvio Berlusconi's government.
The bill, which faces a lengthy passage through parliament, would force magistrates to choose between a career as a prosecutor or a judge.
Prosecutors and judges can currently switch between the two career paths.
Critics say Mr Berlusconi is seeking to punish magistrates for the numerous trials he has faced or is facing.
He is due to stand trial in four cases over the coming months, including one linked to allegations that he paid an underage prostitute for sex.
Mr Berlusconi has denied all allegations against him, saying the cases are politically motivated.
Powerful, independent magistrates have played a key role in Italian society, notably in the 1990s when the "Clean Hands" inquiries uncovered huge corruption and led to the overhaul of the political system.
'All are equal'
Introducing the bill, Justice Minister Angelino Alfano said prosecutors and defendants needed to be placed "on the same level", with judges above them.
"In order for the judges to be really above both, they cannot be direct colleagues of prosecutors," he said.
"This is what protects citizens: a perfect parity between prosecutors and defendants. We think that in order to achieve this, we need to keep the two careers separated. The judge and the prosecutor are two different jobs."
Mr Alfano said that prosecutors should be held accountable for any mistakes they made.
"All are equal before the law," he said.
"If a doctor makes a mistake regarding a decisive choice he makes in an operating theatre during a delicate operation, he's accountable and a citizen can sue him.
"If a magistrate makes a mistake regarding a something essential and fundamental such as individual freedom, the citizen can directly sue the magistrate who has made the mistake."
Anna Finocchiaro, head of the opposition Democratic Party group in the Senate, said Mr Berlusconi was out for revenge.
"This is a reform prompted by personal resentment and ideological motives rather than from a real need to make trials work," she told Reuters news agency.
The constitutional reform will need to be approved by two-thirds majorities in both houses of parliament or be put to a popular referendum, AFP news agency notes.
However, the government only holds a narrow majority in the lower house, making it highly unlikely the reform will be enacted any time soon.