Azerbaijan police halt opposition rally with arrests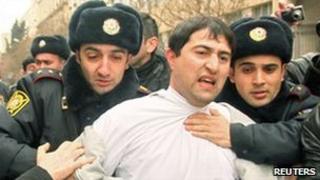 Police in the Azerbaijani capital Baku have seized a number of opposition activists trying to hold a rally against the government.
Witnesses saw uniformed and plainclothes police detaining protesters one by one and pushing them on to buses near a university.
The authorities said 10 people had been arrested for attempting to hold an unauthorised demonstration.
But opposition sources said dozens had been detained.
Activists inspired by events in the Arab world had been calling for an anti-government demonstration.
'Students warned'
Isa Gambar, leader of the opposition Musavat party, told AFP news agency that dozens of activists had been detained including his son and the leader of the opposition Liberal-Democratic party, Fuad Aliyev.
"We will try to hold other protests in the future," one young man told reporters before police bundled him into a waiting bus, Reuters news agency reports.
Students at Baku universities were warned they would be expelled if they missed classes on Friday, Reuters adds.
Political activity and the media are tightly controlled in the mainly Muslim oil-rich former Soviet republic.
The government appears nervous that the Middle East unrest may revitalise a largely ineffectual opposition, correspondents say.