Champagne flat on Italy's birthday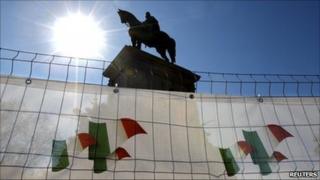 Italy is putting on its party frock, but the champagne already feels a bit flat.
It is celebrating 150 years of unification - or should that be enduring it, as the country is anything but unified.
This is a nation brimming with scandals, political infighting and division, and in no real mood to let its hair down.
Italy still takes pride in its abundant beauty, art, food and architecture, but Italians find their prime minister on trial, anti-government protesters on the streets and an economy progressing as if its feet were encumbered with a pair of deep sea diver's boots.
And there was a huge row over whether Italy should even be marking the anniversary with a national holiday.
They decided to go ahead, but only after some nasty mud-slinging about the cost of it all and its relevance.
Latecomer
Despite its abundance of ancient heritage, Italy came relatively late to the nation-building business.
It was only in 1861 that its fractured parts were welded into a whole.
Until then, what is now Italy had been divided up into a mixture of competing kingdoms, city states, papal enclaves and subjugated colonies.
The French, for instance, ran most of northern Italy from 1796 until 1814.
It took a combination of monarchists, nationalists and idealists to establish a country embracing all of the Italian peninsula.
Turin was Italy's first capital after unification and here, at least, they are trying to make a big deal over the big day.
For five years, the Italian Senate was based here, before the capital was moved to Florence and then to Rome.
Now, they have reconstructed the Senate as it was, with glorious brass lamps, ink wells and intricate wooden cornicing among the red tiered seating.
One indication of how far Italy has changed since then is that the seats in this revived chamber have had to be made a little wider and with more legroom than the originals, as Italians have become taller and bigger.
'Cynical air'
Enrica Pagella, the historian behind the restoration, acknowledges that the 150th anniversary is not being universally embraced.
"There is an air of cynicism," she says. "But I think it's important to re-visit our past to see how we formed our country."
Turin also has a Unification Museum, newly reopening on 17 March.
Among its busts, paintings and documentary archives, there is a full-size statue of Giuseppe Garibaldi on his horse.
Garibaldi was the general who fought battles in Sicily and elsewhere to bring the country together.
Not far from the general's statue, the museum's director, Roberto Giachino, professed his enthusiasm for the country's celebrations.
"It's illogical for people to ignore this 150th anniversary," he said. "This is all about our history. It is important to remember our past, to know where we've come from."
In the centre of Turin sits the university, a building that has more in common with the 1960s than the 1860s. Inside one of the lecture halls, the history students were soaking up their past.
Italian pride
When they graduate, jobs will be hard to find, so the expectation was that they would be either indifferent, or even hostile, to the 150th anniversary.
Yet when I called for a show of hands asking if they were in the mood for a celebration, the arms of all but one of the roughly 100 students went up.
It was a pretty convincing sign of Italian national pride, at least among the young.
"Yes, we have problems, but we like being Italian," said Gabriele, one of the students. "We are different to others in Europe. Italians are unique."
But that sense of an Italian identity isn't shared by everyone. With its diverse regions, cities, dialects and cultures, Italy has never been a natural alliance of peoples.
Benito Mussolini was one of those who tried to hold it together. But his unsavoury strain of dictatorial nationalism failed, felled ultimately by opposition to his brutish ideology and the catastrophic alliances he forged.
The Italian monarchy, another apparent force for unity, spectacularly miscalculated by endorsing Mussolini and was also swept away. In 1946 the country became a republic.
Separatism
For a while, it seemed that differences were being put aside for the greater Italian good. But today, the state's role and influence is again being challenged.
This time it is the separatist-minded Northern League which is piling the pressure on Prime Minister Silvio Berlusconi to give the north greater autonomy.
The League is Mr Berlusconi's lifeline in office. Without it, the parliamentary maths would turn against him and he would sink. With it, he has to offer concessions: federalism is the price.
So, bit by bit, power is leaking from Rome.
The League is exerting its political muscle in the hope of changing the make-up of the country.
Although this anti-immigration, south-bashing party now claims it does not want outright independence in order to form what it calls the state of Padania, it is not hard to find party members who do want a lot more freedom.
I asked Stefano Allasia, a Northern League deputy in Italy's lower house of parliament, to rank his order of personal territorial loyalties.
"I'm firstly someone from Turin, then Piedmont, then Padania, then Italy and then Europe," he responded.
To him, being Italian came second to last.
"This 150th anniversary is just a historical event," said Mr Allasia. "It has no relevance. In Italy the north is the economic powerhouse. The south just takes and doesn't give. I won't be celebrating the anniversary. I will probably be with my family at the seaside."
Soon after unification, one statesman cleverly remarked: "We have made Italy; now we have to make Italians."
A century-and-a-half on, his goal is still a work in progress.