EU rejects Catalonia scheme to protect small retailers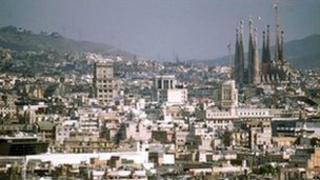 A bid by Spain's Catalonia region to protect small retailers against competition from larger rivals has been blocked by the EU's Court of Justice.
The European Commission brought an action against Spain after it allowed the region to restrict areas where large retailers can set up.
Some restrictions were enshrined in Spanish national laws while others were laid down in Catalan legislation.
The industry-rich region accounts for about a fifth of Spain's economy.
"A member state may not make the opening of a large retail establishment conditional upon economic considerations such as its impact on the existing retail trade, or the market share of the undertaking concerned," the court said in its ruling.
"Such considerations cannot justify a restriction on the freedom of establishment."
Catalonia's restrictions included limits on new permits which stipulated that they might only be issued when the authorities were satisfied that proposed new businesses, such as hypermarkets, would not have an impact on small traders.