France: Martine Aubry spurred by Socialist poll victory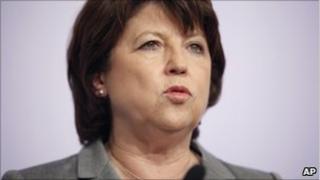 France's opposition Socialists are celebrating a decisive local election victory against President Nicolas Sarkozy's ruling centre-right UMP.
The Socialists took nearly 36% of votes, while the UMP mustered just 20% and the far-right National Front (FN) scored 12%.
The result was interpreted as a key step in the presidential ambitions of Socialist leader Martine Aubry.
Fifty Socialist MPs have now urged the party to back her for the presidency.
Ms Aubry told supporters: "Our determination is total to show that another France is possible."
Although presidential elections are not due until 2012, Ms Aubry faces strong opposition to lead the Socialist campaign from current International Monetary Fund Managing Director Dominique Strauss-Kahn as well as other candidates such as former party leader Francois Hollande.
'Enormous surges'
In their letter, made public on Monday, the 50 MPs throw their weight behind the Socialist leader, arguing that she has the "legitimacy" and "responsibility" to unite "the Left, ecologists and popular forces" which they believe are necessary for election victory.
Recent opinion polls have suggested that Mr Sarkozy would be narrowly beaten into third place in next year's vote by the National Front, now led by Marine Le Pen. If that were the case, the conservatives would fail to make the second round of the presidential vote, mirroring the Socialists' failure to reach the run-off in 2002.
In Sunday's cantonal elections, the National Front won at least two cantons, though the party's share of the vote decreased from 15% in the first round of voting the previous weekend.
"Whether we are facing an UMP candidate or a Socialist candidate, we are showing enormous surges, including in those areas where people were saying that we had no votes in reserve," Ms Le Pen told French TV.
Prime Minister Francois Fillon said in a statement that the National Front's score "shows that the protest vote must not be underestimated or trivialised".
And an opinion poll conducted by BVA-Absoluce suggested that 52% of voters now saw the National Front as a "party like the others".