Suspected bombs found near Borussia Dortmund stadium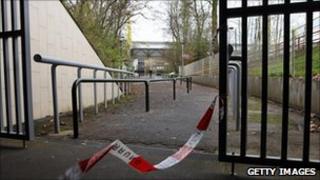 German police say they have detained a 25-year-old man after three suspected explosive devices were found outside Borussia Dortmund's football stadium.
Three devices were also found in the flat of the suspect, who is German.
The Federal Criminal Police Office said he was arrested in Cologne on Tuesday after e-mailing anonymous tips about planned attacks to the authorities.
The interior ministry has sought to reassure the public, saying he had "no links to terrorist or Islamist" groups.
"The suspect was apparently acting on his own with a criminal motivation. There was no danger to any third parties at any time," a spokesman said.
Embassy tip
Michael Stein, a spokesman for the Dortmund police department, said: "We expect no security threat at all for the upcoming Bundesliga match on Saturday. The visitors are invited to come to Dortmund. They will be safe here."
An investigation was begun by the police in February after an anonymous tip was sent to the German embassy in the Pakistani capital, Islamabad, offering to provide information about two attacks being planned.
When the suspect was arrested, he admitted sending the e-mail tips and making up details of the attacks, officials said.
He then told officers about the explosive devices near Borussia Dortmund's stadium and in his flat.
The Bundesliga leaders said the devices were found in a car park a few hundred metres from the 80,000-capacity Westfalenstadion.
Tests have yet to determine whether they could have exploded.
Officials said they believed it might have been a blackmail attempt.