Berlusconi affairs test patience of female loyalists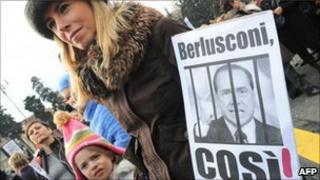 My hairdresser, Flavia, calls herself a "Berlusconiana".
She voted for Italy's Prime Minister, Silvio Berlusconi, when he first came to power in 1994, and has supported him ever since.
Flavia - who does not want to give her last name - runs a salon on a backstreet in a suburb of Rome, serving a broad cross-section of Roman voters.
She's ideally placed to sum up the range of Italian women's attitudes to Il Cavaliere (the knight), as he is widely known, in the run-up to his trial on allegations of paying for sex with an under-age prostitute.
There are old ladies having a blow-dry and set, young women having their dark roots retouched and career women straightening their hair.
According to Flavia, her clients are divided equally between those who love and those who loathe the premier.
But recent events have not made her alter her own stance.
"Everything they're saying about Berlusconi has been invented," she says.
"The reports that he's going with under-age girls are all gossip. We still have to see if it's true.
"They do everything to try to put him in a bad light. But in the end, they never succeed."
Standing by their man
Flavia is not alone in her beliefs.
Political scientist James Walston, from the American University of Rome, says Mr Berlusconi's most faithful supporters are less educated and older women, who watch a lot of television.
"What seems to be the case is that many of those are still with him."
He says television is the reason.
Mr Berlusconi's family controls Mediaset, which operates the country's top three private channels.
As head of government, he also has indirect authority over the state-owned broadcaster, Radiotelevisione Italiana (Rai).
Lorella Zanardo, who co-directed a documentary called Women's Bodies, critiquing depictions of women on Italian television, agrees.
"For 80% of people who watch television in Italy, television is their only source of information. And the television is owned by Berlusconi," she says.
"So the information you receive is what he wants us to know."
Gyrating hostesses
Television has also influenced how women are regarded in Italy.
In the hair salon, Flavia's clients are watching a game show.
The male host speaks volubly, while the four pretty hostesses, gyrating and high-kicking in dresses with plunging necklines, between them utter barely a word.
No-one in the salon bats an eyelid.
Nevertheless, allegations about the prime minister's escapades have inspired some change in attitude.
Florence city councillor Bianca Maria Giocoli says they triggered her decision, last year, to leave Mr Berlusconi's People of Freedom party (PdL). She joined the new Future and Freedom party (FLI), formed by one-time Berlusconi ally, Speaker Gianfranco Fini.
"I was a convinced Berlusconiana and I am disappointed," says Ms Giocoli, a 54-year-old lawyer.
"It's like when you're in love and you discover that the person you've been with for a long time is completely different.
"We look like a light opera - not an opera but an operetta," she says.
"Italy has traditions. We have so many poets and artists, quite apart from the workers who work so hard every day. Why throw this all away? Truly it's a sin."
'End of an era'
Hundreds of thousands of women were of similar mind, rallying in Rome and other cities in February this year, saying the most recent sex scandal, involving the aspiring model Kahrima El Mahroug (nicknamed Ruby, and then 17 years old), had disgraced Italy.
James Walston says the protests were significant because women of many different classes, levels of education and age took part.
"You had older women, girls, professionals and workers who were saying: 'This is enough! This is not what women's liberation meant 30 years ago and it's not what it means now'."
Annamaria Tagliavini, a director at a major feminist organisation, the Centro di Documentazione delle Donne in Bologna, believes the protests were a watershed.
"We've finished an era, in which there was a certain relationship of fascination - among women of a certain social group - for Berlusconi," Ms Tagliavini says. "This sort of feeling has finished."
"With the situation getting worse from day to day - with more revelations about the premier's private life - I believe that this women's movement will become stronger and stronger. It's difficult to go back from this."
But while some of his female supporters have been swayed, others are sticking to their views.
"Sure Berlusconi has parties, inviting girls to his place," hairdresser Flavia says. "It's true a public person has to take more care - but it's still his private life.
"When the people went out to vote, he won. The will of the people must be respected. The important thing is that he's working for the country. Now he has to govern and that's all."