Spain sentences Somali pirates to 439 years' jail each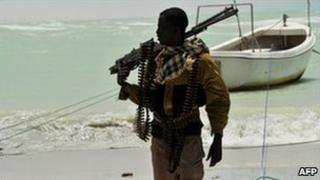 A Spanish court has sentenced two Somali pirates to 439 years in jail each for their role in the hijacking of a tuna fishing boat.
The two men have been detained in a Madrid jail since they were caught after the attack in late 2009.
The court said government-linked bodies had paid to have the vessel freed, but the government has insisted it does not pay ransoms.
The vessel and 36 crew members were held off Somalia for 47 days.
The Somalis were found guilty of 36 counts of illegal detention and robbery with violence, but absolved of charges of terrorism, membership in an organised crime group and torture.
Maximum sentence
The National Court identified them as Cabdiweli Cabdullahi and Raageggesey Hassan Aji, according to the Associated Press.
Under Spanish law, they will serve only a maximum of 30 years in jail, regardless of the sentence.
They were also ordered to pay 100,000 euros to each person detained.
During the trial, the suspects said they had been fishing and were themselves seized by the pirates who later hijacked the vessel.
The court said "public organisations linked to the Spanish government" had paid for the release of the crew.
Spain's Foreign Minister Trinidad Jimenez said the government did not pay ransoms.
Piracy is a highly lucrative trade in Somalia, where gangs can often demand millions of dollars in ransoms.