Vojislav Seselj: UN tribunal dismisses acquittal bid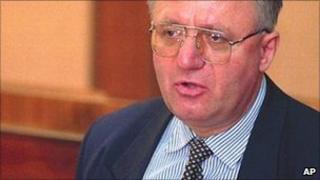 The UN war crimes tribunal in The Hague has dismissed a motion for the acquittal of Serbian ultra-nationalist Vojislav Seselj.
Mr Seselj, leader of the Serbian Radical Party, is charged with nine counts relating to the Croatian and Bosnian wars of the 1990s.
He has pleaded not guilty and filed a motion for acquittal and compensation.
While he does not deny making nationalist speeches, he says they did not constitute war crimes.
The BBC's Balkans correspondent Mark Lowen says that in the 18 years of proceedings at the tribunal, no defendant has ever been acquitted under the rule Mr Seselj has invoked.
Mr Seselj surrendered to the International Criminal Tribunal for the former Yugoslavia (ICTY) in 2003.
He is accused of forming a joint criminal enterprise with the late Serbian leader Slobodan Milosevic to "ethnically cleanse" large parts of Bosnia, Croatia and Serbia's northern Vojvodina region.
The charges against him include murder, torture, sexual assault, forced transportation and destruction of property.
But earlier this year he filed a motion under the court's "Rule 98 bis", arguing that the prosecution's evidence was insufficient to support a conviction.
The rule allows a defendant to file for acquittal or dismissal of the case after the prosecution has presented its evidence.
Mr Seselj's Serbian Radical Party has been campaigning for him to be released in time for parliamentary elections next year.
Some feared that if he were released and returned to Serbian politics, he could once again have galvanised the far right at a time when the country's pro-Western government was trying to move closer to its goal of European Union membership, our correspondent says.