EU in push to standardise rail bookings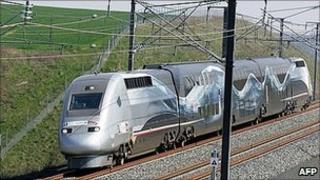 European rail operators will have to use standard ticket and timetabling systems in future to make cross-border train journeys easier for the public, the European Commission says.
A new Commission regulation aims to make rail bookings as easy as airline bookings in Europe.
The goal is to move to a pan-European system because currently passenger data is handled differently in each country.
Rail travel is generally seen as more environmentally friendly than flying.
EU Transport Commissioner Siim Kallas said standardised ticketing procedures would help the railways compete with airlines in Europe.
"We want to make it as easy, in the future, to book a rail ticket from Barcelona to Brussels or Berlin to Bratislava as it is to book a corresponding flight," he said.
He called the new regulation "just the start of a much bigger push to make pan-European rail planning and ticketing a reality".
Currently cross-border rail bookings are limited because national booking systems cannot exchange data seamlessly, the Commission says.
Next year the EU will require rail operators by law to standardise their IT systems and practices.