Russian war veteran appeals to Obama for new home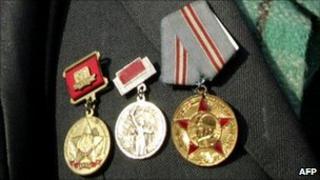 A disgruntled Russian World War II veteran has asked US President Barack Obama for help because officials in St Petersburg have refused him a flat.
In a letter to President Obama, quoted by Russian media, Anton Karavanets said he had helped free US prisoners-of-war held by the Japanese in 1945.
He says he regrets not having taken up an offer to move to the US at the time.
Since news of the letter broke, St Petersburg officials have said they are re-examining the 83-year-old's plea.
Mr Karavanets says he is sharing a rented flat with his son and paying the rent out of his pension.
"My country doesn't need me," he wrote, asking Mr Obama to renew the offer of a home in the US, which he had turned down in 1945.
The Lenta.ru news website says his letter was handed in to US diplomats, who said they would forward it to Mr Obama.
On Monday Russia will hold its annual Victory Day parade and celebrations to mark the defeat of Nazi Germany and Japan in 1945.
In 2008 President Dmitry Medvedev issued a decree promising housing for all veterans of what Russia calls the "Great Patriotic War".
Many veterans have fallen on hard times since the collapse of the Soviet Union in 1991.
St Petersburg housing officials say veterans are only entitled to a flat in the city if they have lived there for at least 10 years.
Under that rule Mr Karavanets did not qualify, they said.