France Islam: Suspected militants seized in Paris area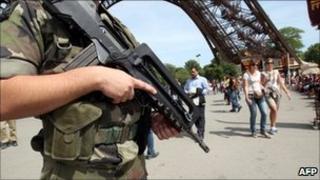 Six suspected Islamic militants have been picked up in French police raids in and around the capital Paris, according to police sources.
They were seized as part of an operation against jihadist networks operating in Afghanistan and Pakistan, the sources told AFP news agency.
Arrests were made in Paris and its Stains and Garges-les-Gonesse suburbs.
Earlier, the interior minister played down fears of an al-Qaeda attack after Osama Bin Laden's death.
However the minister, Claude Gueant, added that security forces were on a heightened state of alert over the jihadist threat.
The six people arrested early on Tuesday were due to be questioned by France's (DCRI) intelligence agency.