EU to label real fur and leather on clothes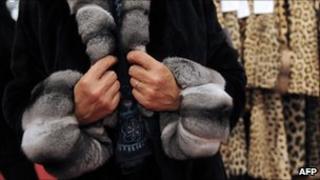 Clothes labels in the EU will in future have to state whether a garment contains real fur or leather, the European Parliament has decided.
Euro MPs approved a new EU regulation to give shoppers more information about the composition of textiles.
The phrase "contains non-textile parts of animal origin" will appear on labels for leather jackets or coats trimmed with real fur.
But the country of origin - the "made in" indicator - is not yet mandatory.
Manufacturers have two-and-a-half years to switch to the new labels.
The animal protection group Humane Society International welcomed the MEPs' vote, saying it would help shoppers make informed decisions and avoid fur if they had ethical objections.
HSI says "many consumers can't tell the difference between fake and real animal fur" and currently manufacturers do not have to indicate the presence of real animal fur.
The MEPs and the Council - the EU member states' governments - have agreed that the European Commission will carry out an in-depth study to decide on an origin labelling scheme.
The study will also investigate whether clothes labels can standardise sizes across the EU and give more guidance for allergy sufferers.