France refuses to take Belgian killer Dutroux's ex-wife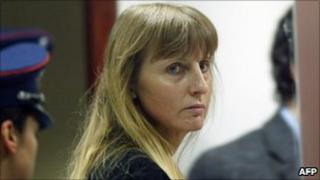 The French justice minister has said France will not take the ex-wife and accomplice of Belgian paedophile killer Marc Dutroux after her early release.
Belgian authorities agreed this week to Michelle Martin's release after serving 15 years of a 30-year prison term.
The transfer to a French convent for 10 years was a condition of the release but French Justice Minister Michel Mercier says Paris has not been asked.
Martin was found complicit in two of Dutroux's four murders of girls.
She was also convicted of helping Dutroux hold his victims prisoner.
Basement dungeon
An unnamed French convent has agreed to take Martin for the duration of her 10-year probationary period.
"We have not received a request from Belgium and will apply the convention between Belgium and France and look at it if this happens, but I do not intend to say yes," said France's justice minister.
Dutroux was arrested in 1996 and convicted in 2004 of the kidnap and rape of six girls, teenage or younger. He also killed two of the girls and caused the deaths of two others.
Martin was arrested along with Dutroux and found guilty of helping Dutroux in the abductions, and of complicity in the deaths of two of the girls - eight-year-olds Julie Lejeune and Melissa Russo.
They were found buried after they had been starved to death in Dutroux's basement dungeon.
The bodies of the other two girls - An Marchal, 17, and Eefje Lambrecks, 19 - were found in 1996 in the garden of one of Dutroux's houses. Post-mortem reports showed they had been raped and beaten before being drugged and buried alive.
Two other girls - Sabine Dardenne, 12, and Laetitia, 14, were found alive, confined in Dutroux's dungeon.