Irish girl Amy Byrne dies in bouncy castle accident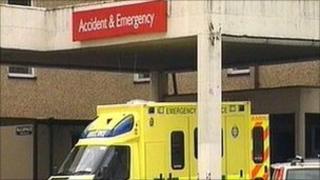 An eight-year-old girl was killed on Saturday in County Waterford in the Republic of Ireland, after falling from a bouncy castle in her garden.
The girl, named as Amy Byrne, had just received her first communion, and was celebrating at her home with family and friends.
At about 1800 BST, wind caught and lifted the bouncy castle, causing Amy to lose her footing and fall.
She sustained serious head injuries, and died soon afterwards in hospital.
Amy was among a group of 15 children who made their first communion at St Gobnait's Church, Kilgobinet on Saturday lunchtime.
The bouncy castle had been arranged by Amy's parents, Paul and Lorraine Byrne, to mark an important milestone for their daughter.
The couple, who own a dairy farm, were being comforted by relatives as a happy family occasion turned quickly to tragedy.
Following her fall at the family home in Cul na Smear, Colligan, Amy received immediate medical attention.
However she soon lost consciousness and was rushed to Waterford Regional Hospital, where she was pronounced dead.
Irish police described the death as a "tragic accident" but would not comment on more specific details.
Parish priest Father Michael Kennedy, who conducted the communion mass, described the accident as "terrible".
"The whole place, everyone, we are all in shock. We are all praying," he said.
A postmortem was carried out on Sunday, and Amy's funeral is expected to take place on Tuesday.