Carla Bruni, wife of Nicolas Sarkozy, 'pregnant'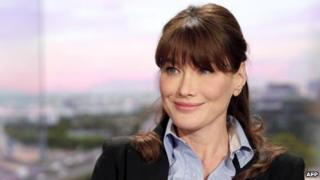 Rumours surround the possible pregnancy of Carla Bruni, wife of French President Nicolas Sarkozy, after newspaper reports quoting her father-in-law as saying she was pregnant.
The German Bild newspaper quoted Pal Sarkozy as saying: "I'm glad to be having a grandchild."
"I'm sure it will be a girl, as beautiful as Carla," he added.
In an interview on French TV on Monday, Ms Bruni, 43, refused to comment on speculation she was expecting a baby.
Ms Bruni, who married Mr Sarkozy in 2008, already has a son, born in 2001, from an earlier relationship.
Mr Sarkozy, 56, has three sons from his two previous marriages.
Rumours have been circulating for several weeks that Ms Bruni might be pregnant, with a due date of October or November being mentioned.
Earlier, Ms Bruni's mother, Marisa Bruni-Tedeschi, was said to have told a dinner party: "We will soon have a grandchild," the Italian newspaper La Stampa reported.
Ms Bruni appeared on the French TF1 channel on Monday to talk about her charity work, but sidestepped a comment about her possible pregnancy.
"I know you don't like people talking about your private life, but I just want to congratulate you," presenter Jean-Pierre Pernaut said.
Ms Bruni smiled and replied, "I congratulate you too," without saying what for.
"The Elysee [seat of the French presidency] makes no comment on matters of private life," Mr Sarkozy's office told the French AFP news agency.
In 2009 - a year into their marriage - Ms Bruni said she wanted to have a child with Mr Sarkozy. She said if it were not possible to have one biologically, she would be prepared to adopt.