Russian prosecutors demand action over ambulance abuses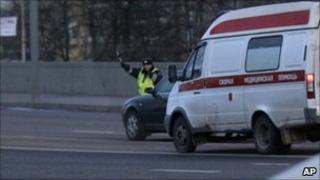 Paramedics working in league with undertakers are among abuses reported by Russian prosecutors in a report on emergency healthcare violations.
The chief prosecutor's office said abuses of the free ambulance service existed across the country and it called for tighter monitoring.
People in some areas needed permission to summon assistance, it found.
In one city, undertakers turned up instead of an ambulance at the home of a seriously ill patient.
All Russian citizens are entitled to free emergency healthcare regardless of their circumstances, the report stressed.
Convictions
However, some parts of the country, such as Altai and Kirov, were left without ambulance services, while fuel shortages hampered services in regions including Novosibirsk.
Prosecutors investigating the death of a 64-year-old woman in rural Kurgan found she had been denied an ambulance.
The chief doctor at the local hospital had given orders that any ambulance call-out had to be made through local officials.
Several people received two-year prison sentences as a result.
The chief prosecutor's office found that in "a number of cities", paramedics had taken payments from undertakers for tipping them off about dead or seriously ill patients, thereby violating citizens' right to privacy.
A criminal investigation is under way in Yekaterinburg, the city where undertakers turned up to offer their services in place of an ambulance.