Air France crash: Airbus has 'no concerns' over A330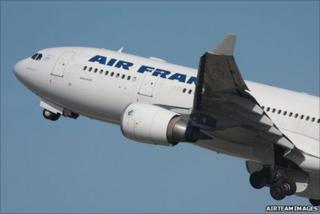 Airbus has reportedly reassured airlines over the safety of its A330 jet after an early reading of data from an Air France jet that crashed in 2009.
The plane manufacturer told them it had no new safety recommendations after seeing flight recorder data, sources close to the inquiry said.
But French accident investigators have cautioned against blaming pilot error.
All 228 people on Flight 447 died when it went into the Atlantic flying from Brazil to France during a storm.
The jet's voice and data recorders were retrieved earlier this month off the Brazilian coast.
The readings include the last two hours of the cockpit voice recordings.
'No immediate recommendation'
Airbus sent out an industry bulletin, seen by the French newspaper Le Figaro and Reuters news agency.
"At this stage of the preliminary analysis of the DFDR (digital flight data recorder), Airbus has no immediate recommendation to raise to operators," the bulletin said.
Although not released to the public, such industry-wide messages are usually seen as significant because they can only be issued with the approval of official crash investigators, Reuters notes.
Any obvious defect would automatically lead to some form of recommendation to avoid risking passenger safety on the rest of the 1,000 or so A330 aircraft currently in service.
The bulletin did not rule out future recommendations based on a fuller analysis of the data.
A headline on the Figaro website read "Pilot error theory being confirmed".
However, France's air accident investigations agency (the BEA) said it was too early to draw any conclusions about what had caused the plane to come down.
It added that the successful retrieval of flight recorder data made them "almost entirely certain today that all light [would] be shed on this accident".