Russia's Medvedev promises election decision 'soon'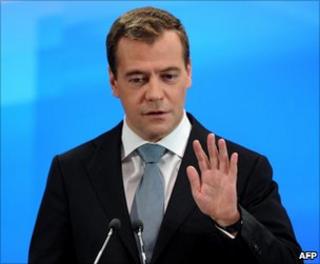 Russian President Dmitry Medvedev has promised journalists he will reveal whether or not he will stand for re-election in 2012 "soon".
His predecessor and mentor, Vladimir Putin, is eligible to stand again as president next year, after two previous terms in the Kremlin.
Mr Medvedev gave his first full news conference after three years in office.
Questioned about Syria, he said he would not back any UN resolutions paving the way for intervention.
Russia, he said, was not happy with the way the West had used the UN resolution on Libya.
Mr Medvedev also warned the US about the need to co-operate on missile defence.
'Like-minded people'
Wednesday's news conference was broadcast live by Russian TV channels.
The president frequently smiled in response to questions and sought to create an easy atmosphere with the journalists questioning him.
"Political life is not just show business and it's not show business at all, it's quite a complex job that is subject to certain processes which must be respected," Mr Medvedev said, when asked about re-election.
"A decision like this has to be taken when the time is right."
Mr Medvedev has spent most of his years in office in the shadow of Mr Putin and many have expected him to step aside in 2012, says the BBC's Moscow correspondent Daniel Sandford.
Suggestions of a power struggle were fuelled by recent public disputes between the two men - most notably over Libya, our correspondent says.
Asked about their relationship on Wednesday, Mr Medvedev said he had known Mr Putin for more than 20 years and they were "truly like-minded".
"This does not mean however that we see eye to eye on everything," he added.
"But we are close in our strategies, otherwise we would simply be unable to work together."
Mr Medvedev added: "I hope that when taking corresponding decisions on which of us is to stand for which post and what to do in the future, we will be guided by this responsible approach - responsible, first of all, towards this country and its people."
'Cold War scenario'
Other questions touched on familiar themes such as the need for Russia to modernise.
Asked about continuing violent unrest in Russia's North Caucasus, he said the government would keep investing in the region since unemployment, he argued, was a major factor driving young people to join illegal groups.
On missile defence in Europe, Mr Medvedev said Moscow could pull out of its Start nuclear disarmament treaty with Washington if it did not co-operate over the issue.
"It would be a very bad scenario," he said. "This would be a scenario that would take us back into the Cold War era."
Since the treaty came into force in February, differences have re-emerged, notably over a US announcement this month that it would station interceptor missiles at a former Soviet base in Romania.
Mr Medvedev took part in press briefings in the past but had never held a full-scale question-and-answer session with the press in the manner of Mr Putin, who is currently prime minister.
More than 800 journalists were believed to be attending Wednesday's news conference.
They were invited to submit questions before the start of the news conference, out of which Mr Medvedev would choose which ones to answer. The Kremlin published 210 of these questions on its website.