Crime victims in Europe to get extra EU protection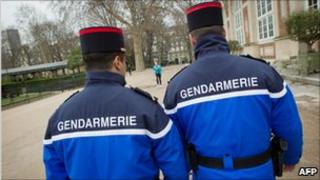 EU citizens who suffer a crime in another EU country will in future get a standard level of support, under a draft law from the European Commission.
The Commission says victims of crime in the 27-nation EU need more clarity about their rights, as "current laws across the EU can be patchy".
Euro MPs and ministers will now study the EU draft directive. It will take at least two years for it to become law.
Protection orders for victims of abuse or harassment will also apply EU-wide.
"There are a lot of rules and help for those accused, but somewhere along the way we lose the victims," EU Justice Commissioner Viviane Reding told the Today programme on BBC Radio 4.
Unreported crimes
The Commission says it has a mandate to handle European criminal justice matters under the EU's Lisbon Treaty.
Most crimes are never reported, the Commission says, estimating that up to 75 million people are direct victims of crime in the EU every year.
Strengthening the rights of crime victims abroad would help bring more criminals to justice and reduce the cost to society, it argues.
Sarah Ludford MEP, justice spokeswoman for the UK Liberal Democrats in Europe, said Europeans who fall victim to crimes abroad "must be given proper information and access to justice".
She underlined the importance of language rights - the right to have all legal proceedings and documents translated into their language.
The Commission says the new directive will ensure that:
Victims are treated with respect and police, prosecutors and judges are trained in how to properly deal with them;
Victims get information on their rights and their case in a way they understand;
Victim support exists in every EU member state;
Victims can participate in proceedings if they want and are helped to attend the trial;
Vulnerable victims are identified - such as children, victims of rape, or those with disabilities - and they are properly protected.
Last December the European Parliament approved a proposed European Protection Order (EPO) to give crime victims protection beyond their home country.
"At the moment a domestic violence victim's protection against an abusive ex-husband can vanish the moment she crosses a border," Baroness Ludford said on her website.
Most protection orders apply to women victims of gender violence, but MEPs voted to make EPOs applicable to all victims of crime who were threatened by an aggressor.
The EPO regulation, separate from the victims of crime directive, has not yet been adopted by the member states' governments.