Italy toddler dies after being left in car for hours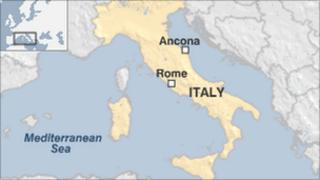 An Italian toddler has died after being left in a hot car for five hours by her father who had forgotten to drop her off at day care.
Doctors in the city of Ancona declared the 22-month-old Elena dead - three days after the incident.
Father Lucio Petrizzi, a professor of veterinary medicine, said that he had inexplicably thought he had left her at a nursery on the way to work.
Prosecutors are due to decide whether to charge him with manslaughter.
Mother's appeal
Mr Petrizzi said he had left his daughter in the car on Wednesday.
He said he had returned from work only to find her barely breathing in his car.
The father then frantically called an ambulance, but doctors were unable to save Elena who had an extensive brain swelling.
The mother, Chiara Sciarrini, appealed for understanding for her partner.
She told Italian media that what had happened to him "could have happened to anyone".
"I want to shout to the entire world how much my companion loved his daughter. He is an exemplary father," said the mother, who is eight months pregnant.
An autopsy is expected to be carried out early next week.
A two-year-old girl and a young boy have become recipients of Elena's heart and liver, after the toddler's parents gave permission for the organs to be transplanted.