Barack Obama due to arrive in Dublin for Irish visit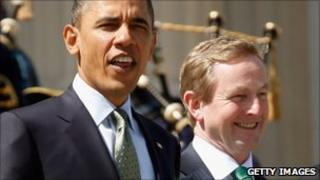 US President Barack Obama will arrive in Dublin later on Monday for his first visit to Ireland.
Final preparations are being put in place across the city.
Traffic restrictions have been implemented at College Green, where Mr Obama will address the public on Monday evening.
He will spend 24 hours in the Republic before travelling to the UK for a three-day state visit.
On Saturday US aircraft arrived in the Irish capital carrying the helicopters, jeeps and limousines that will be used to transport the President.
Mr Obama will meet the Irish Prime Minister Enda Kenny and President Mary McAleese during his visit to Dublin before flying to his ancestral home in Moneygall, County Offaly.
He is expected to travel by helicopter.
However, heavy rain and high winds are forecast so an alternative method of transport may be made available, according to the Irish Department of Foreign Affairs.
Mr Obama will spend 45 minutes meeting locals at a ticketed event in Moneygall, the home of his great-great-great grandfather.
He will then travel back to Dublin for an open air concert at College Green ahead of his presidential address.