Mikhail Khodorkovsky applies for parole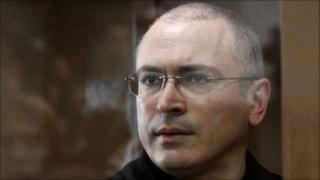 Former Russian oil tycoon and outspoken Kremlin critic Mikhail Khodorkovsky has filed for early release from prison.
He lodged the appeal on Friday, according to its text, posted on his supporters' khodorkovsky.ru website.
Khodorkovsky has been convicted in two separate trials since his 2003 arrest, and can apply for parole having served more than half of his 13-year sentence.
Last week a Moscow appeals court upheld Khodorkovsky's fraud conviction, but cut his sentence by a year.
His first bid for parole in 2008 was unsuccessful.
Khodorkovsky, the founder of the former oil giant Yukos and once Russia's richest man, is currently due for release in 2016.
The release application says: "Of the 13 years to which I was sentenced, I have served more than seven-and-a-half. I do not acknowledge my guilt, since I am continuing to dispute the court's verdict."
He was once seen as a potential challenger to Vladimir Putin, Russia's president at the time of Khodorkovsky's arrest, and now the country's prime minister.
The European Court of Human Rights is expected to deliver a judgment on Tuesday on whether Khodorkovsky's rights were violated after his arrest.
His lawyers have protested about the conditions in the prison where he was kept.
His legal team also says Khodorkovsky's arrest was unlawful, and that there were political motives for his prosecution.
Khodorkovsky's associate, Platon Lebedev, the former head of Menatep, has also made the same parole application.