E. coli outbreak: German hospitals struggle to cope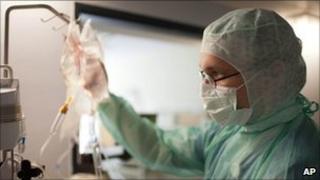 Hospital staff in northern Germany are working overtime to treat the large number of patients infected with an aggressive form of E. coli that has left 22 people dead so far.
Clinics in Hamburg, Kiel and Luebeck are operating at the limit and have had to request extra help from medics in the south of the country.
Intensive care and dialysis units are particularly short of trained personnel.
German Health Minister Daniel Bahr said some hospitals had to deal with "bottlenecks" in providing sufficient numbers of staff.
About 2,000 people have been infected with the enterohaemorrhagic E. coli (EHEC) bacteria. More than 600 of those have developed haemolytic-uraemic syndrome (HUS), which can lead to bloody diarrhoea, kidney failure, neurological damage and death.
Most HUS patients - 70% - are women.
Treating HUS is a time-consuming procedure. Patients have to have their blood plasma exchanged to get rid of the toxic substances released by the EHEC bacteria into the system.
Those people whose kidneys have been affected need dialysis on top.
Both procedures require specialist equipment and staff. Blood plasma is being brought in from other regions as reserves in northern Germany ran out a few days after the outbreak started.
Confusion
Oliver Grieve, spokesman for the University Hospital Schleswig-Holstein, which runs clinics in Luebeck and Kiel, told the BBC he had never encountered a similar situation in his professional career.
"We have enough equipment and drugs at the moment. But the super-human effort made by our doctors, nurses and service personnel is beyond description," Mr Grieve said.
Patients in Hamburg report a growing sense of confusion and insecurity.
A young woman infected with EHEC told Spiegel magazine that her family, including her children, were being treated like outcasts.
"It's cruel, it is like being outlawed," she said.
Another woman, the mother of a young baby, described how three hospitals gave her different advice on feeding her child.
"One clinic ordered instant isolation from my baby, another said I should just stop breastfeeding, a third said I should carry on as usual. [The conflicting advice] is worse than the swine flu."
Health Minister Mr Bahr visited hospitals in northern Germany on Sunday to see the effects of the outbreak first hand.
He has invited fellow officials from all the German states to attend an emergency meeting in Berlin on Wednesday.
But in recent days he has drawn criticism from several sides for his handling of the outbreak.
The opposition Green party complained Mr Bahr and the health authorities at the state level had underestimated the crisis.
And the German Consumers Association said that conflicting messages coming from the federal and state governments had confused people and added to a sense of panic.
"They [the government] were really caught off guard," Ralf Beste, political correspondent for the Spiegel newspaper, told the BBC World Service.
"The health minister was just installed a few weeks ago, and he felt he had different problems with the health system, and now he has a food crisis."
"With Germany being a federal country, there are 16 health and 16 agricultural ministers, so there is not much of a co-ordinated effort visible to the German consumers."
The authorities are keen to point out that it is still safe to eat vegetables as long as certain basic rules of hygiene are followed: people should wash their hands and their food thoroughly, and for the time being stay away from certain fresh vegetables sold in northern Germany.
End in sight?
There is hope though.
While scientists believe they have isolated bean sprouts coming from a farm in Lower Saxony as the source of the EHEC germs, hospitals have seen a decrease in new infections.
Sunday was the first day in a month that all new patients admitted at University Hospital Schleswig-Holstein tested negative for EHEC, said spokesman Oliver Grieve, while on previous days there had been dozens of new infections each day.
"And it was the first time that we could release HUS patients, who are now stable enough to go home and continue treatment there," Mr Grieve said.
"Maybe, but only maybe, we have seen the climax of this outbreak."