Bosnian Serbs defensive in Mladic country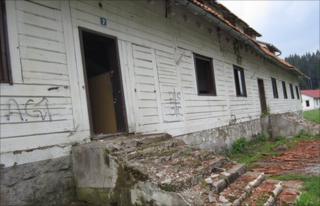 Ratko Mladic's wartime headquarters in Han Pijesak in central Bosnia is in ruins.
Cows graze on the grass in front of buildings littered with debris. The insulation has been torn from the walls, rubble and human excrement cover the floors.
In the officers' canteen I find a relief map of the Balkans, the cities and larger towns marked in red.
There is Sarajevo, the city his troops bombarded for three and a half years.
Just up the road beyond Han Pijesak is Srebrenica - a place notorious for the Bosnian Serbs' massacre of about 8,000 unarmed Bosniak (Bosnian Muslim) men and boys in 1995.
In the top right corner, in the green flat fields of northern Serbia, there is the small village of Lazarevo, where Gen Mladic was arrested on 26 May without a struggle.
He is now in prison in The Hague, awaiting trial.
Looting
Thunder rips open the sky like a mortar barrage.
Tucked away in the mountains of central Bosnia, this place was originally built to serve as the wartime Yugoslav army headquarters, in the case of attack by Nato or the Soviet Union.
Nato did flatten one or two of the buildings opposite while Gen Mladic was in charge in 1995, but most of the damage here has been done by looters.
They were looking for different treasures though - they missed his maps, the list of local phone numbers, and the little red manual on how to aim and fire 82mm guns.
Stukelja Dasa, a Bosnian Serb refugee from Olovo, 40km (25 miles) away through the mountains, lives today with her granddaughter in the sturdy wooden building which once served as a guardhouse.
There is no way for her to return to her old home - it was burnt down by the Bosniaks, she says, because her sons all served in the Bosnian Serb army.
She survives on 80 euros (£71) a month, but is delighted to get visitors.
She misses the time before the war, she says, when no-one worried about who was who, and you could still drink coffee with your neighbours.
'Our hero'
Two men stop our car at the entrance to Ratko Mladic's home village, Bozanovici. But they wave us through, when they see I am accompanied by his neighbour, Branko Mandic.
We pass the red tin-roofed house Gen Mladic built for himself when he returned here as an army officer, to reach the house he was born in.
There is a wood-burning stove in each room, to take the edge off the mountain chill, and a family portrait on one wall - of his aunt, his uncle, and their daughter.
There are only three rooms, and a barn with two cows.
Mr Mandic is proud of Ratko Mladic, his former neighbour, like everyone here. And Srebrenica, I ask?
"The women and children and older people were all put on buses, and driven to safety. Those people who were younger, who had guns... were killed in the forests, in battles," he says.
"And after that, they brought all of them to the mass graves, to the same place. From all over Bosnia. To the same hole."
So no prisoners were killed, I ask.
"No, no, no. All those capable of carrying arms were in the forest."
In the nearby town of Kalinovik, Pantelija Curguz, president of the Bosnian Serb Veterans' Association, takes a different tack.
"Any man who is not convicted is innocent. We want him to have a fair trial," he says. "For us, he is still our commander, and our hero."
Is he not upset by the absence of Bosnian Serb leaders from his association's rallies?
"We don't insist on political support. This is our issue, as veterans. If politicians think they should support it - it's up to them."
'Myths of the past'
Milorad Dodik, the all-powerful president of the Bosnian Serb Republic (Republika Srpska) may not have attended the rallies.
But he has proposed setting up a fighting fund of 50,000 euros to help defend Gen Mladic and other Bosnian Serbs accused of war crimes.
For Svetlana Cenic, an opposition leader in Banja Luka and outspoken critic of Mr Dodik, that is just evidence of nationalist manipulation.
She says: "To cover up the fact that Dodik and his party have stolen the people's money, they pretend to be defenders of the Serbian national interest, and they pretend that the Republika Srpska is in danger, which is not true."
And the public remain gullible, at the mercy of a media which the president and his people largely control, she says.
"They still want to believe in their myths of the past. They don't want to face the truth, no matter how many facts are presented in other countries, about the bombardment of Sarajevo, for example," she adds
One evening in Srebrenica, a small delegation of young people come looking for me.
"Please could you not just report on the war, the death and destruction," says Milena Nikolic, a Bosnian Serb who was 11 when the war started and now runs the town youth centre.
On a Friday night there is a "Battle of the Bands", with at least one - the Silver Stones - combining Bosniak and Serb musicians.
"We try not to talk about reconciliation, because it's a word which doesn't make sense to those who didn't experience the war," Ms Nikolic says.
"Instead, we work with music, with art and culture. People meet and make friends with each other on those terms."