Ministers urge nuclear safety tests after Japan crisis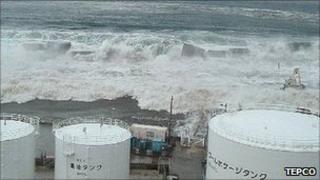 Ministers from nearly 30 nuclear energy-producing countries have called for safety tests on all reactors in the wake of the nuclear disaster in Japan.
France's environment minister said delegates at a summit in Paris agreed to "improve and lift our standards and co-operation on nuclear safety".
Some governments are reconsidering their nuclear energy strategy.
Germany has already decided to abandon nuclear energy for green technology and cleaner gas- and coal-powered plants.
In a major policy reversal, its government announced last month that all the country's nuclear plants would be phased out by 2022.
Transparency
France, which co-hosted Tuesday's meeting under its chairmanship of the G20, relies on 58 nuclear reactors for 80% of its electricity.
At the recent summit in Deauville, G8 leaders agreed that more stringent nuclear rules were needed.
French President Nicolas Sarkozy said that from now on safety, not funding, should be the pre-eminent concern of the nuclear industry.
A majority of the ministers and officials who attended the talks in Paris supported introducing stress tests that would determine how well nuclear plants could withstand major disasters, such as the earthquake and tsunami that rocked the Fukushima Daiichi plant in Japan in March.
"The Fukushima accident in Japan shook us all and the need arose very quickly to draw lessons, to improve and lift our standards and co-operation on nuclear safety," French Environment Minister Nathalie Kosciusko-Morizet said.
Currently there are no mandatory international nuclear safety regulations, only recommendations from the International Atomic Energy Agency (IAEA) which national regulators are in charge of enforcing.
The ministers also agreed on the need to give the IAEA a bigger role in guaranteeing nuclear safety. They hope to reach consensus on the matter before an IAEA ministerial meeting on 20-24 June in Vienna.
Swiss Energy Minister Doris Leuthard said countries should first ensure they were respecting existing international conventions and then submit to mandatory peer reviews.
"When you think my authorities are good enough and the peer reviews are welcome, why don't we accept that it is mandatory? Why don't we give transparency to our populations?" she asked.
From 1 June onwards, all 143 nuclear plants in the EU will be re-assessed using criteria covering both natural and man-made hazards.