Greenpeace protesters delay Dutch nuclear waste train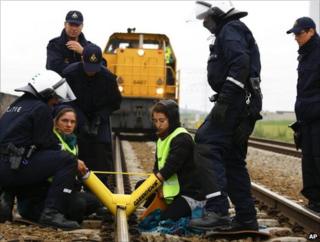 A train carrying waste from a Dutch nuclear plant has been delayed three hours by Greenpeace activists chaining themselves to the rails.
Police made 33 arrests during the protest near Borssele, Zeeland province, where 10 activists had attached themselves to the track.
The train eventually crossed the Belgian border en route to France where the waste was to be reprocessed.
Police released the activists but court summonses were served.
Police said they might be charged with either disturbing public order or hindering a train.
A Greenpeace spokesman argued that transporting the waste from the Borssele nuclear power plant represented a risk for people living along the route to the recycling plant at La Hague in Normandy.
Blowtorch
Police encountered five blockades and broke them up one by one, police spokeswoman Esther Booth told AFP news agency.
"The protesters were cut loose with saws - for others we had to use a blowtorch," she said.
Belgian Greenpeace activists had also planned a protest at the Belgian border town of Essen but failed to stop the train.
"There were many police officers," spokeswoman Elizabeth Loos said.
"We could not stay for long."
Greenpeace said the train consisted of three wagons "with an amount of radiation comparable to that released at the nuclear disasters at Chernobyl and Fukushima".
Its nuclear energy campaign spokesman, Ike Teuling, said any accident en route would be a "catastrophe".