Russia's President Medvedev "won't stand against Putin"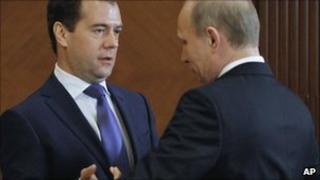 Russian President Dmitry Medvedev has said he finds it "hard to imagine" that he and Prime Minister Vladimir Putin would run against each other at next year's presidential election.
Competition between them could, he said, "be harmful".
But, speaking to the Financial Times, Mr Medvedev declined to confirm whether he would stand for a second term.
He said reports that there was a growing rivalry between the two men were "absolutely inappropriate".
The president's statements were full of mixed messages, says the BBC's Steve Rosenberg in Moscow.
When asked in the interview if he intended to seek a second term in the Kremlin, the Russian president said "any leader who holds the post of president simply must want to run".
But - he added - "it was another issue" whether he would "take this decision or not".
'Same political force'
He appeared to rule out standing against Mr Putin, if the prime minister decided to put forward his candidacy.
"Vladimir Putin and myself - and Vladimir Putin is my colleague and an old friend - represent, to a large extent, one and the same political force. And therefore competition between us may be detrimental to [our] tasks and goals," he told the FT.
Mr Medvedev repeated his vow to modernise the country, and said this depended on expanding political competition.
He warned that "in the absence of political competition the foundations of a market economy were beginning to disappear."
He hinted at reversing some of the political centralisation and state control of the economy put in place under Mr Putin.
"In some countries there is a rather successful coexistence of market-oriented economies and limited political competition," he said. "This is not for us."
In recent months President Medvedev has grown more critical of his prime minister, says our correspondent Steve Rosenberg.
But, he adds, it is Mr Putin who is widely considered to be the most powerful politician in Russia, and most analysts believe it will be Mr Putin who gets to decide which of them will represent the party of power at next year's presidential election.