Greece's debt crisis: Your questions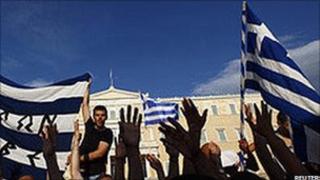 The Greek government is due to face a vote of confidence, a crucial first step towards gaining a vital 12bn euro ($17bn; £10bn) loan.
If the government survives the vote, Greece's parliament will be asked to back the latest spending cuts - worth 28bn euro - on 28 June.
These austerity measures and other reforms have to be introduced before the European Union and International Monetary Fund release the funds and Greece needs the loan to pay its debts.
If you have a question on Greece's debt crisis and how it will affect you, fill in the form below.
A selection of your questions will be put to Gideon Rachman from the Financial Times and the London Correspondent from the Greek Newspaper, Eleftherotypia, Matina Stevis on the BBC News Channel at 1930 tonight.
This entry is now closed to comments.