UK says Poland blocked EU deal on CO2 emissions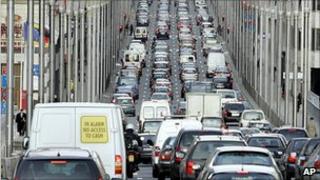 The UK government has sharply criticised Poland for blocking an EU effort to set a higher target for cuts in CO2 emissions.
"I'm deeply disappointed that the only country in the EU that could not accept a good compromise on how we can move Europe to a low carbon economy was Poland," said UK Energy and Climate Change Secretary Chris Huhne.
The EU is committed to a 20% cut in CO2 emissions by 2020, from 1990 levels.
But there are now calls for a 30% cut.
EU environment ministers discussed a European Commission roadmap to 2050 on climate and energy, which sets out how the EU can move to a competitive low-carbon economy and cut CO2 emissions.
But there was no agreement to set more ambitious CO2 targets at the talks in Luxembourg on Tuesday.
Poland is poised to gain more influence over EU negotiations when it takes over the rotating six-month EU presidency on 1 July.
Speaking after the talks, Mr Huhne said it was "a dark day for Europe's leading role in tackling climate change, but the UK together with its European colleagues will continue to make the economic case for tighter EU carbon targets so that we can make the most of the future green economy".
He added: "Delay and blockage is a recipe for increased costs and missed opportunities."
Pressure from MEPs
Polish Environment Minister Andrzej Kraszewski urged his EU colleagues to show understanding of the different economic conditions across Europe.
Polish industry and power stations still rely heavily on coal, so switching to renewables and cleaner technologies is more of a challenge than for some of its EU neighbours.
On Thursday the European Parliament will vote on a report by Bas Eickhout, a Dutch Green MEP, which calls for new Commission proposals so that Europe can "move to a 30% overall target for 2020".
The UK Conservative-Lib Dem coalition wants the EU to aim for a 30% emissions cut.
But the leader of the UK Conservative group in Europe, Martin Callanan MEP, says he opposes that stance, UK daily The Guardian reports.
"Conservative MEPs have always been sceptical of the EU unilaterally increasing its target to 30% without a worldwide agreement... European companies will be unable to compete if the reduction targets are set too high," he said.
"Many high energy consuming companies are already being forced to relocate to countries outside the EU, which have little or no environmental legislation, putting many Europeans out of work, and an increased target will exacerbate this trend."
The EU's long-term goal is to reduce its greenhouse gas emissions by 80-95% by 2050, with 80% achieved through measures in Europe and any additional amount through international mechanisms such as the UN's Clean Development Mechanism.
According to the Commission roadmap, the EU is capable of reaching a 25% emissions cut by 2020 through energy efficiency and developing renewable sources such as solar, wind and hydro-power.