Russia to sell Aeroflot and oil shares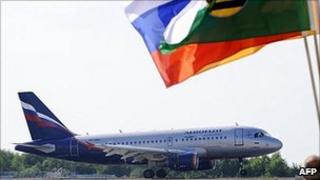 Majority shares in Aeroflot and big oil firms will be sold off by the Russian government in a major privatisation programme, its finance minister says.
Alexey Kudrin has been spelling out what appears to be a major change in economic policy.
It was first advertised by President Dmitry Medvedev 10 days ago.
He told the St Petersburg International Economic Forum that the period in which the state increased its role in the economy was over.
The president said: "The potential of this path has been exhausted... Such an economic model is dangerous for the country's future."
He ordered an accelerated programme of privatisation.
Finance Minister Mr Kudrin has now been explaining exactly how radical the plans are.
End of an era
Speaking at a Renaissance Capital investors' conference in Moscow on Monday, Mr Kudrin said the Russian state would sell its majority shareholding in "almost all" oil companies and transport companies, starting with the national airline Aeroflot.
"In the next three to five years the government should dispose of controlling stakes in almost all key companies that we own," he said.
"This includes the financial, oil, and communication sectors and about transport companies, starting with Sovcomflot and Aeroflot," the finance minister told the conference.
The main sector he did not mention was gas.
The president's economic adviser, Arkady Dvorkovich, told journalists that the oil giant Rosneft and the VTB bank would be included in the plans.
But, he said: "Gazprom is not in the plans for the moment. It has a large infrastructural component, so we are not going to rush it."
It appears to mark the end of a decade in which the Russian state, under former President Vladimir Putin, re-took control of big companies in many key sectors. This sometimes took place in controversial circumstances - such as the dismantling of the tycoon Mikhail Khodorkovsky's Yukos oil company.
Mr Kudrin said that Russia would be looking for much more private investment over the next 10 years. But many investors' confidence in the Russian economy seems to be low, with close to $50bn (£31bn) of capital having left the country this year.
The nervousness appears to be based on uncertainty about who will be the establishment's chosen candidate for the presidential election next year - and fears about Russia's severe institutional corruption.