China-Germany trade: Wen meets Merkel in Berlin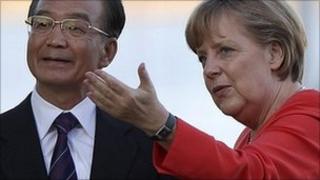 Chinese and German leaders are meeting for trade talks in the German capital Berlin, with the Chinese seeking new investment by hi-tech companies.
Chinese Premier Wen Jiabao arrived on Monday evening on the final leg of his European tour, and is meeting German Chancellor Angela Merkel.
Germany is by far China's biggest trading partner in the EU.
Mrs Merkel predicted bilateral trade would rise to 200bn euros (£178bn; $284bn) from 130bn over five years.
While China eyes more sophisticated markets, German firms do not want to lose know-how to Chinese competition.
Both sides are now starting to understand how they can benefit from each other, the BBC's Stephen Evans reports from Berlin.
Some German companies are keen to manufacture in China and realise that this will involve some transfer of technology, while remaining cautious about what trade secrets to hold back.
China has been increasing its holdings of bonds denominated in euros. Were these loans to eurozone governments to change, the crisis in the eurozone would get worse, our correspondent says.
'Respect our choices'
Mr Wen's visit began with an informal dinner hosted by Mrs Merkel at a lakeside villa on Monday.
The German leader insisted she would not play down human rights concerns for the sake of trade.
"We have different opinions on certain issues but I am confident we can discuss them," she said at the dinner.
Speaking to German and Chinese business leaders at his hotel on Tuesday, Mr Wen said he would not accept lectures from European partners.
"China respects the political system and the development model chosen by the citizens of the EU," he said.
"In exchange, we expect from the EU respect of our sovereignty, our territorial integrity and the autonomous choices of the Chinese people."