French Socialist candidates: Aubry declares her hand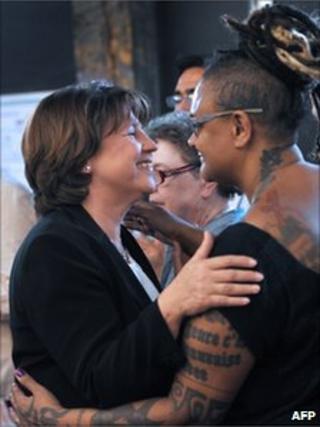 Martine Aubry has announced she will compete to be the Socialist candidate for the 2012 French presidential election.
Ms Aubry, party leader and daughter of former European Commission President Jacques Delors, declared her bid in the city of Lille, where she is mayor.
Bids for the party ticket close in July, with a vote in the autumn.
The Socialists last held France's top political office in 1995 under the late Francois Mitterrand.
The current conservative President, Nicolas Sarkozy, is widely expected to stand for re-election, boosted by the elimination of Dominique Strauss-Kahn, who had been tipped as the Socialists' best hope before being sidelined by sexual assault allegations in May.
Other likely contenders for the Socialist candidacy, which will be decided at primary elections in October, include former party leader Francois Hollande and Segolene Royal, who was defeated by Mr Sarkozy at the 2007 election.
'A taste for the future'
Within France, Ms Aubry is best known for introducing the country's 35-hour work week when she was employment minister under Socialist Prime Minister Lionel Jospin in the late 1990s.
"I want to restore France's strength, its calm and its unity," Ms Aubry said in Lille.
"I want to give a taste for the future and a desire for a common destiny back to everyone."
She condemned the policies of Mr Sarkozy, saying they were orientated towards benefiting "the most privileged".
Nominations for the Socialist primaries close on 13 July.