Greece: South Asians flee financial crisis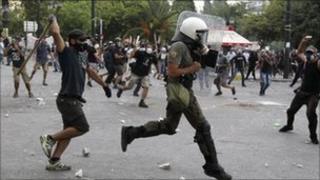 Thousands of South Asian migrants have left Greece in recent months to escape the country's growing economic crisis.
Many of the migrants are now out of work and facing hardship, community leaders told the BBC.
One Bangladeshi grocer in Athens said daily proceeds from his shop had plummeted and he had had to lay off six of his eight employees.
Greece faces massive tax rises and spending cuts aimed at preventing the country from defaulting on its debts.
Without a second bail-out from the European Union, the country could run out of money within weeks. Greece is in the grip of a nationwide strike and violent clashes are continuing in Athens.
'No jobs'
Jainal Abedin, a businessman and president of the Bangladeshi Association in Athens, said there were 30,000 people of Bangladeshi origin in Greece.
The financial crisis meant jobs were being cut and orders were down, he said.
"Many Bangladeshis are leaving Greece because they don't have jobs," Mr Abedin told the BBC Bengali service.
He said his grocer's shop used to take 6,000-7,000 euros a day, but that had now dropped to 300-400 euros and suppliers were no longer willing to take his cheques.
The Bangladeshi embassy said dozens of the country's nationals were asking it for help every month in returning home because of the lack of work.
Pakistani community leaders in Athens speaking to the BBC Urdu service had a similar tale.
They say there are around 80,000 Pakistanis living in Greece. Some 17,000 are legally settled while others are either asylum seekers or illegal immigrants.
They estimated that more than 75% of Pakistanis had been directly or indirectly affected by the financial crisis in Greece.
Most had lost their jobs or work, and people running small businesses were now incurring heavy losses.
According to an official figure, 1,500 Pakistanis in Greece have returned to Pakistan since the financial crisis began in 2008.
They did so under an official programme to facilitate the return of illegal immigrants. Many more Pakistanis have gone back on their own.
'Shops closed'
Indians, too, are leaving, for similar reasons.
Madhur Gandhi, a shipping businessman in Athens and president of the Indian Community in Greece, said the crisis had affected lots of lives.
Out of about 30,000 Indians in Greece, only 18,000 were legal immigrants, he said. The vast majority of the community were agricultural workers employed on various islands - only a couple of hundred lived in Athens.
"Lots of factories and shops were closed and our people lost jobs," Mr Gandhi told the BBC Hindi service.
"Agriculture workers were also affected but most seriously affected were the construction workers. About 1,000-2,000 Indians have gone back to India."
The Sri Lankan community numbers 5,000-6,000, Matale Dhammakanda, a Buddhist priest in Athens, said.
Most work as housemaids or in hotels and many had entered the country illegally.
They were facing severe hardship and many were now trying to find ways to migrate to other countries in search of employment, he told the BBC Sinhala service.