Dominique Strauss-Kahn's election bid 'unlikely'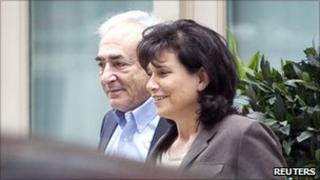 Former IMF chief Dominique Strauss-Kahn is unlikely to run for the French presidency despite polls suggesting he would still be popular, a spokesman for the French Socialist Party says.
On Friday, Mr Strauss-Kahn was freed from house arrest over concerns about the reliability of the accuser in the sex assault case against him.
He still faces sexual abuse charges.
He had been the favourite to be the Socialist Party's candidate for the French presidency in May 2012.
Socialist Party spokesman Benoit Hamon has said the idea Mr Strauss-Kahn could now run for the presidency was "the weakest" of all possible scenarios for his political future.
But even if Mr Strauss-Kahn missed a deadline of 13 July to register for the party primary in October - five days before his next scheduled court appearance - the leadership would not necessarily block a late entry to the party ballot, the spokesman added.
Senior Socialists had said the deadline could be extended.
It is extraordinary to think that Mr Strauss-Kahn is even being mooted as a potential candidate, says the BBC's Christian Fraser in Paris.
But speculation was rife over the weekend that he may return as a surprise candidate for next year's presidential election, our correspondent says.
The snap polls that followed Friday's dramatic events in court suggested that 49% of French voters favoured his return, against 45% who were opposed, and on the left 60% of voters said they would support him.
Mr Strauss-Kahn would certainly be a gamble - but the current crop of front-runners do not unite or inspire the party as Mr Strauss-Kahn did before his arrest, our correspondent adds.
Collapse?
Before being accused of sexually assaulting a hotel maid in New York on 14 May, Mr Strauss-Kahn was seen as a strong contender in the French presidential race.
But doubts have since emerged about the credibility of the maid, and the case is reportedly close to collapse.
On Friday, a judge ordered Mr Strauss-Kahn released on his own recognisance - which means he must simply promise to appear in court.
His is now free to travel in the US, although he cannot leave the country and must appear in court again later this month.
Mr Strauss-Kahn, who resigned as head of the International Monetary Fund to defend himself, vigorously denies the charges.