Mladic's courtroom antics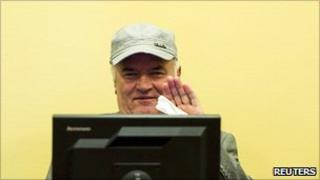 It was a morning of extraordinary legal confrontation, but one that was not totally unexpected.
The judges and court officials at the International Criminal Tribunal for the former Yugoslavia (ICTY) have grown accustomed to the bursts of anger from the accused.
They have learned how to deal with requests from defendants intent on playing on their physical ailments and drawing out the legal process.
After Slobodan Milosevic, Radovan Karadzic et al, there are few surprises in store for the ICTY.
Gen Ratko Mladic's appearance at this pre-trial hearing was fractious from the start.
Contrary to expectations, he did appear in the chamber when proceedings opened on Monday.
There had been talk of a possible boycott by Mr Mladic, but there he was, albeit looking sullen, as though he would rather be elsewhere.
He brought with him a cap, as he did a month ago. This time, he was more insistent about wearing it, leading to an early reprimand from the presiding judge, Alphons Orie, when he turned, with cap in hand, to the public gallery.
Even before he was extradited from Serbia, Mr Mladic had complained of ill-health.
On Monday, he claimed he needed to wear his cap in court because his head was cold and half of his body was not functioning properly. He added that he was elderly and sick.
Mr Mladic then began an argument with the judges about his legal representation.
The duty counsel appointed by the court, Aleksander Aleksic, said he had been to visit Mr Mladic 10 times in the nearby detention centre, but since last week, it had been made clear by Mr Mladic that Mr Aleksic's services would no longer be required.
The former Bosnian Serb commander wants to appoint his own lawyers, a fundamental right to which he is entitled, subject to certain conditions being met.
As the atmosphere became more feverish, Mr Mladic lost his temper and refused to listen to the judge enter pleas of not guilty on his behalf. This led to his ejection by security guards.
'Firm'
Mark Ellis, the director of the International Bar Association, points out that Judge Orie was co-defence counsel in the first war crimes trial to be heard by the ICTY.
"He'll be very firm. If there's any sense that Mladic will try to obstruct the proceedings, this judge will have none it. He's going to move this trial forward", says Mr Ellis.
In the wake of Monday's court theatrics, Ratko Mladic will have a choice. He can appoint his own lawyer, a move which the court would no doubt attempt to facilitate.
Alternatively, he may try to boycott the case. Mark Ellis says if that happens, the tribunal's response will be straightforward. The court will appoint a representative for Mladic, and the trial will go ahead.
Clearly, what will not be tolerated by the judges will be further histrionics and obstruction by Gen Mladic.

Delic, a Bosniak (Bosnian Muslim), was commander at the Celebici prison camp where Serb prisoners were held in 1992. Convicted of wilful killings, torture, causing great suffering or serious injury and inhuman treatment.
Played a lead role in the 1995 attack on Srebrenica. Knew senior members of the Bosnian Serb Army had "genocidal" plans for the Bosniak population. Convicted of aiding and abetting genocide, murder and persecution.
Leader of a notorious Serb paramilitary group, the Tigers. Believed to be responsible for killing at least 76 non-Serbs in Bosnia's Sanski Most area in 1995. He was killed in Belgrade in 2000 before being brought to trial.
As President of Serbia and later President of the Federal Republic of Yugoslavia, Milosevic was indicted for war crimes against non-Serbs in Croatia, Bosnia and Herzegovina and Kosovo. He died four years into his trial.
Operational commander of Croatia's "Operation Storm" to regain control of the Krajina region. Thousands of Serbs fled the area, others were removed or murdered. Convicted of crimes including persecution, deportation and murder.
The Bosnian Serb leader is accused of war crimes such as genocide and persecution of Bosniaks and Croats, including the Srebrenica massacre and the siege of Sarajevo. He was captured in 2008, living in disguise.
The Bosnian Serb Army commander is the latest suspect to be captured. He is accused of 11 counts of genocide, hostage-taking and other war crimes between 1992 and 1995, including the atrocities at Srebrenica and Sarajevo.
The Croatian Serb is the last indictee to be captured. Accused of the ethnic cleansing of Croats from the majority-Serb Croatian region of Krajina and the murder of civilians between 1991 and 1992.
The Hague tribunal has indicted 161 people for war crimes committed during the conflicts in the Balkans, the majority of them Serbs. Fifteen trials involving 35 defendants are still underway.
BACK
{current} of {total}
NEXT