Blaze kills 16 at Ukraine nursing home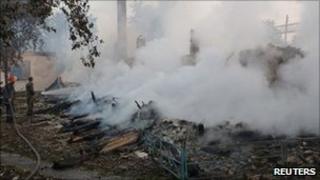 A fire has swept through a home for the elderly in western Ukraine, killing 16 people, officials say.
They say 11 people were rescued from the single-floor, wood-and-concrete building in the village of Bile, about 300km (180 miles) west of Kiev.
Three of those rescued were in serious condition. All suffered carbon-monoxide poisoning.
The fire - which started just after midnight - was caused by negligence, the officials believe.
An investigation is now under way, Ukraine's emergencies ministry says.
Firefighters battled the blaze for five hours before extinguishing it.