Turkey match-fixing: More top officials detained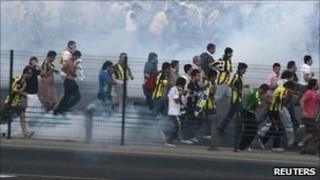 Turkish police have detained 22 more people in a widening investigation into alleged football match-fixing.
They include the chairman of this year's league runners-up Trabzonspor, and the former head of the national football association.
The chairman of champions Fenerbahce is among 26 people already charged over the suspected fixing of 19 matches.
Turkey's football association has until Friday to decide whether to strip Fenerbahce of the title.
That is the deadline for notification to Uefa of Turkey's representatives in European club competitions.
If Fenerbahce were banned, Trabzonspor could be awarded the title and a Champions League place - unless they, too, are found to have been involved in match-fixing.
Those detained on Monday included Trabzonspor chairman Sadri Sener, former Turkish federation president Mahmut Ozgener, and other officials and a goalkeeper.
Final-day win
Last week Aziz Yildirim, chairman of Fenerbahce, was arrested along with 60 others in the investigation.
He and 25 others were remanded in custody on Sunday on charges of match-fixing. The others have been released.
At this news, Fenerbahce supporters went on the rampage outside the courthouse in Istanbul, and across town near the club's stadium.
Mr Yildirim has not commented publicly, but Fenerbahce issued a statement on Saturday saying: "We do not believe the accusations that have been made against the president and directors."
Fenerbahce pipped Trabzonspor to the league title with a final day 4-3 win at Sivasspor.
Fenerbahce were at one point a long way back in the league but the Istanbul club won 16 of their last 17 games to take their 18th title on goal difference.
Turkish media have speculated that the allegations being investigated include a striker being offered money to not score, a goalkeeper deliberately failing to save a goal, and the selection of a particular referee.