Malaga tries to shake off tacky image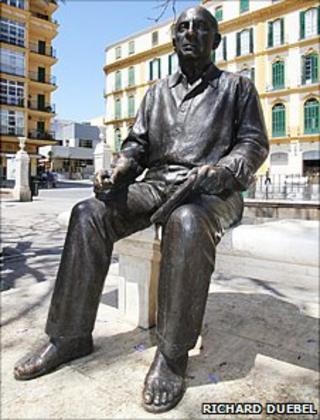 Amateur artist Philip Graham stands admiring a painting by one of the greatest artists of the last century.
The Picasso masterpiece is on the ground floor of a restored Renaissance palace in Malaga's old town and is one of hundreds of artworks by the Malagueno genius on display in the city.
And it is Picasso who has become the springboard for Malaga's cultural revival - even though he only lived in the city until the age of 10.
Although they have often visited rural southern Spain this is one of the rare occasions when Mr Graham and his family have come to the Costa del Sol - with its reputation for tackiness and tattooed yobs drunk on sangria.
Years ago when they came to Malaga they were shocked to find the old town the haunt of drug addicts and vagrants, with rubbish piled up in the streets and most of the shops shuttered and closed.
What has attracted them now is the series of new galleries in the spruced-up historic heart of the city.
Philip Graham is standing in the Museo Picasso Malaga (MPM). "I've also been to Picasso's birthplace and to the Carmen Thyssen Museum which is full of Spanish art," he says. "It's a real revelation. And we've done it all on foot."
The museums located in the pedestrian-only part of town are the result of careful planning by the city of Malaga to update its image and bring back the sort of discerning, high-spending tourist that characterised its early days.
But, according to the MPM's director Jose Lebrero Stalls, there is a danger that in setting out to appeal to tourists a less critical eye may be applied to what is exhibited.
"We don't just show works by Picasso," he explains. "We also display artists who inspired Picasso or were directly influenced by him. We have to be careful to maintain quality and not just to think we can show anything just because it's a Picasso."
'Lot to see'
But local art aficionados and artists are less enthusiastic about the emphasis on one artist.
Chema Cobo, a talented painter, feels ignored.
"We just don't get a look in," he complains. "All the city wants is Picasso. They don't even pay attention to our contemporary art gallery, which is really great. Art has just become a vehicle for tourism."
The Museo Picasso Malaga is the most visited gallery in Andalusia, with more than 350,000 visitors last year, with the majority coming from abroad.
The gentrification of Malaga began with the opening of the MPM in 2003.
Then followed the Casa Natal - the house where Picasso was born. It is an archive as well as a gallery for exhibitions of the artist's ceramics, and shows the paraphernalia of his early family life. Picasso lived in the house from his birth in 1881 until 1891 - a short ten-year span, but one that is still bringing economic benefits to Malaga.
"I think I have learned more about Picasso here than I have from visiting museums devoted to Picasso in France," where the artist spent most of his life, admits Per, a Norwegian teacher.
"We have just been on a cruise and we were planning to go straight to Granada or Seville. But we will stay here for some time - there is a lot more to see." They had also been hoping to stop at the lively resorts of Marbella and Torremolinos - but are so taken by the classic Spanish style of Malaga they have changed their mind.
Magnet for beggars
Although the strategy has brought in thousands of extra tourists, the city is far from complacent.
Its bid to win the title European city of Culture for 2016 failed. It trails far behind Granada and Barcelona in terms of visitor numbers.
Moreover, there are still large numbers of empty shop fronts and with soaring unemployment in Spain, the MPM has become a magnet for beggars.
But the city has benefited from the arrival of the high-speed Ave train from Madrid, which makes the journey from the capital in just two-and-a-half hours. And the expansion of Malaga's Pablo Ruiz Picasso airport has brought in direct flights from the United States, putting Malaga within reach of a new market.
According to Agostin Lomena, the head of tourism information for the western Costa del Sol, the city also enjoys the bonus of being a hub for ships.
"Many begin or end their cruises here," he explains. "That means we have visitors coming a couple of days before their cruise starts or staying on for a while at the end."
The port is also under redevelopment with planned restaurants, shops and yet another gallery. The new branch of the Carmen Thyssen Museum will diversify from the Picasso theme - but only to a point.
Opened earlier this year, the main Carmen Thyssen Museum occupies a 16th-Century palace and features 230 works showcasing Spanish art spanning three centuries. The later artists were contemporaries of Picasso and show the development of art that led up to his outpouring of creativity.