Francois Hollande questioned in Strauss-Kahn inquiry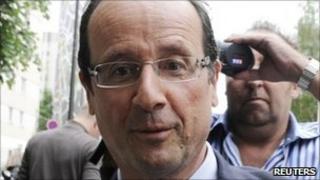 French police investigating alleged sexual misconduct by former IMF chief Dominique Strauss-Kahn have questioned top Socialist figure Francois Hollande.
Police want to establish what he knew of allegations that Mr Strauss-Kahn tried to rape a young writer in 2003.
Mr Hollande, the favourite to be the Socialist presidential candidate in 2012, was party leader at the time.
The writer, Tristane Banon, says senior Socialists knew about the alleged assault but failed to act.
Mr Strauss-Kahn denies assaulting Ms Banon.
He also denies separate charges of attempted rape in New York, where he was arrested in May and charged with assaulting a chambermaid in a Manhattan hotel.
Ms Banon filed her complaint in France after Mr Strauss-Kahn was arrested in the New York case.
In recent days French police have conducted a series of interviews, the contents of which have been largely leaked to the media.
Hugh Schofield in Paris says the most startling revelation came from Tristane Banon's own mother, a local socialist party figure, who said that she too had had sex on one occasion with Mr Strauss-Kahn.
According to newspaper reports, it took place at an office in Paris and she told police it had not been a pleasant experience.
Both Ms Banon and her mother told police that Mr Hollande had been informed of the incident involving Ms Banon.
However Mr Hollande has denied knowing anything more than a vague story.
He also warned against any "political manipulation" in the case.
Whatever the truth, our correspondent says, it is more embarrassment for the Socialist Party, which has still not recovered from the initial shock of the allegations against Mr Strauss-Kahn.
Before his arrest he was favourite to win next year's presidential election.