Ireland's bailout interest rate reduced by EU leaders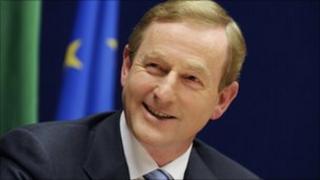 The interest rate the Irish government is paying on its EU/IMF bailout loan has been reduced.
European leaders in Brussels agreed on Thursday evening to lower the rate from around 6% to between 3.5% and 4% as part of a wider EU debt deal.
The length of time to pay back the loan has also been extended from seven and a half years to 15 years.
Irish officials estimate the lower rate could mean a 600-700m euros saving per year for the Irish exchequer.
The details emerged as eurozone leaders agreed a new bailout package for Greece, worth 159bn euros.
Portugal will also benefit from lower interest rates and longer repayment periods on its current debt rescue packages.
Irish Prime Minister Enda Kenny said the debt burden on the Irish people has been made lighter by the deal agreed and came with "no strings attached".
Fianna Fail finance spokesman Michael McGrath said the measures would benefit Ireland but said the government still had to clarify any commitment to engage in discussions with other EU partners on corporate tax harmonisation.
Sinn Fein's finance spokesman Pearse Doherty described the agreement as a "missed opportunity" and said that it would do little to reduce Ireland's growing debt burden.
Independent TD Shane Ross warned that default was now on the agenda, and said it was now a reality despite spending months pretending otherwise.
The Irish government applied for financial help from the EU last November after it conceded the banking crisis in the country had grown too big.
European ministers agreed a bailout deal worth about 85bn euros, a week later.
As part of the package, the Irish government drew up an austerity programme detailing four years of tax rises and spending cuts.
Hailed as the "Celtic Tiger" for the rapid growth of its economy, the Irish Republic went from boom to almost bust in the space of three years.
Much of its growth was built around the property market. But, since 2008, this has suffered a dramatic collapse, with house values falling by 50-60%.
Bad debts almost wrecked the country's banks, forcing the government to bail them out.
As a result, a huge hole opened in the Irish government's finances.