Azerbaijan offers journalists free apartments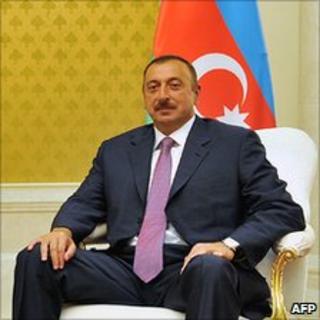 The Azerbaijan government will start providing free housing specifically for journalists in the capital Baku.
Critics, including human rights activists, see it as another tactic to tighten state control of the media.
They say it is a bribe, threatening press freedom and making it harder for journalists to defy the authorities.
The government says it aims to provide social protection for those in need. Journalists are free to write what they want, a presidential spokesman said.
In an interview this week with the Azeri news agency Trend, spokesman Ali Hasanov also called on reporters to be patriotic supporters of the state.
According to Mr Hasanov, every journalist is "a bearer of national and spiritual values ​​and defender of the country's interests."
Building work is about to begin on an apartment block for journalists in Baku, where an oil boom has pushed prices up.
Samira Ahmedbeyli, head of the Institute for War and Peace Reporting in Azerbaijan, says calling on journalists to be patriotic is an effective way of forcing the media to support the government - particularly in the face of draconian libel laws.
"As patriots, we are supposed to write about only positive issues and not be critical. This is why journalists who write the truth are arrested. The government believes that if a journalist writes about problems here, he doesn't love his country. So he must be a spy for Armenia," she said.
Azerbaijan went to war with Armenia over the disputed territory of Nagorno-Karabakh in 1988. A tenuous ceasefire was agreed in 1994, but since then the conflict has regularly flared up and is a source of insecurity for Azerbaijan's authorities.
The Azeri government is also nervous about opposition activists.
Earlier this year government critics attempted to stage an Egypt-style uprising against President Ilham Aliyev, whose family has ruled the country for almost two decades.
The demonstrations were quashed before they could even begin and the leaders were arrested in their homes, or on their way to the protests.
Providing accommodation for journalists seems more innocuous. But as part of a state fund which hands out millions of dollars of support to pro-government media, it is probably an equally effective way of holding onto power.