Georgia frees three photojournalists in spy case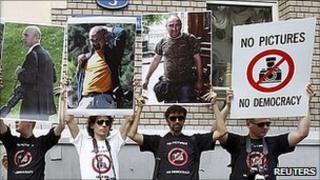 A court in Georgia has released three photojournalists who were arrested earlier this month and accused of spying for Russia.
The three Georgian photographers were given suspended sentences of up to three years after reaching a plea bargain with prosecutors. The three confessed to involvement in espionage.
Human rights groups accused Georgian President Mikheil Saakashvili of intimidating the media.
Russia earlier condemned the arrests.
It called them symptoms of "anti-Russian hysteria". Russia sent thousands of troops into Georgia in 2008 to help separatist rebels in a brief war against Tbilisi's forces.
The three released were: Presidential photographer Irakli Gedenidze, foreign ministry photographer Giorgi Abdaladze and European Pressphoto Agency employee Zurab Kurtsikidze.
The BBC's Damien McGuinness in Tbilisi says plea bargaining is a widespread practice in Georgia, but also a controversial one.
Human rights groups say the practice enables the authorities to strike deals behind closed doors.
In this case such a bargain means that the full evidence of why the photographers were arrested will now not be heard in a proper court hearing.
Our correspondent says the deal may mean freedom for the photographers, but it will further fuel the fears of some journalists, who say the government can use the threat of prison to force admissions of guilt.