Norway massacre press review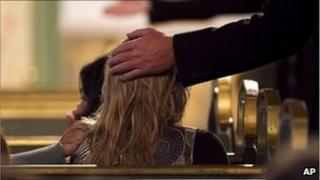 People gathered for prayer on Sunday morning across Norway.
Less than a mile from Friday's bomb attack on government buildings in the capital Oslo, a memorial service in the city's main cathedral, the Domkirken, was attended by King Harald and Queen Sonja and leaders of all political parties, Aftenposten reported.
Ordinary members of the public were there too, as if to confirm the country's commitment to open democracy.
While many were grieving their dead, the newspaper VG, whose offices were also destroyed in Friday's blast, reported from the south of France where the suspected gunman's father revealed his shock at the news, which he first learnt through the media.
VG also spoke to the mother of Anders Behring Breivik, who the newspaper described as a "terrorist". She was quoted as saying she had no knowledge of her son's plans and described him as sociable and caring.
Searches continue
Nettavisen, an online newspaper, noted police fears there might be more dead bodies in the buildings that were blown up on Friday. Some are deemed too dangerous to search because of structural damage.
Similarly, several newspapers reported that a search was continuing for youths not yet accounted for following the Utoeya island massacre, with police using submarines to search the bottom of the lake.
DN focused on how the suspect was insisting on an open hearing when his case went to court. The business daily said the suspect saw the bombing and massacre almost as a marketing operation aimed at making a large, far-right extremist "manifesto" he has written known to the world.
The gunman had made detailed plans for how he would behave during his arrest and during his court appearances, DN added. Several of the news media discussed how he had wanted to orchestrate events and use the court as a stage to address the world, and how he saw his arrest as the start of the "propaganda" part of his mission.
The Norwegian broadcasting corporation NRK, meanwhile, started publishing names of those killed on Friday. As yet, the lists are incomplete, but it is already clear that every community in the country has been directly affected.
The Labour youth conference at Utoeya attracts politically active youth from all over the country, many of them in their early teens.
Consequently, over the next few days we can expect most, if not all, of Norway's many high-quality local newspapers to publish photos of local youngsters from their own small communities, killed in cold blood by the gunman.