Norway massacre: Mayhem in the lake of tranquillity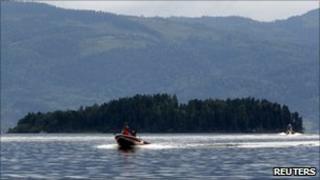 Lake Tyrifjorden, just 40km (25 miles) to the west of Oslo, is as traditional a picture of Norwegian tranquillity as you could hope to see.
The peaceful waters encircled by forested hills and, above, a broad uninterrupted sky.
From the shore it is almost impossible to connect this scene with the reality of what happened on the idyllic island retreat of Utoeya out in the middle of the lake.
The only reminder of the slaughter of up to 90 young Norwegians on Friday afternoon is the constant departure of Red Cross boats heading out to the waters around the island in their continuing search for people unaccounted for and now presumed dead.
The island itself remains sealed off as the police collect forensic evidence from the crime scene and as pathologists carry out post-mortems on the 85 bodies retrieved so far.
White body-bags were lined up along the shore of one part of the island yesterday, some not properly sealed.
As details gradually emerge of the twin attacks, the police themselves have said the gunman was able to continue his methodical, well-planned killing spree for 90 minutes before he was finally captured by a Swat special forces team.
There was no final shoot-out with the police. The gunman surrendered because he had used up all his ammunition.
Police delays
Several survivors have spoken of the length of time it took the police to reach the island.
The police themselves have admitted that the Swat team had to drive from Oslo once they received the alert and then find a boat.
They say it took 45 minutes in total.
If they had been able to use a helicopter, it is estimated they would have reached the island within 15 minutes. Many lives would have been saved.
Instead the gunman worked his way around the small island packed with up to 700 members of the Labour Party's youth wing, many of them teenagers.
According to survivors, he called the youngsters over to him on several separate occasions, saying he had come to help. He was dressed to look like a policeman.
Then once they were close, he pulled out one of his guns and shot them.
Those who were not killed immediately were, according to eyewitnesses, finished off with a shot to the head.
Knowing he was under no threat from the security forces, the gunman was even able to walk along the shore, picking off those who had dived into the water and were trying to escape by swimming back to the mainland.
The first people who came to the youngsters' rescue were locals living on the mainland who could hear the gunfire and set off in their own boats to pick up those swimming across from the island.