Norway attacks: Pride in 'tough' daughter who survived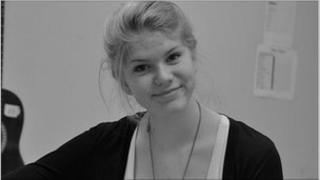 Marianne Bremnes was in northern Norway while her daughter, Julie, told her by mobile phone text message how she was hiding from the gunman on the island of Utoeya.
She has explained how she reacted, and how the atrocity will not shake her daughter's political outlook.
She told the BBC that when Julie first phoned to tell her there was shooting, "I didn't realise how serious it really was".
But when the police told her they had been alerted to the gunfire, and the incident started to appear on the news, she said she started to worry.
"And when she started to text I got more worried. The first message was that the police had to hurry."
She said her daughter and some of the others on the island had gone into the water to hide behind rocks.
"There were four people there. Two of them were panicking. I'm proud of the way she never panicked - now I know she was trying to calm the others down.
"My husband was with me - he was contacting grandparents and the police. But I had to keep my phone to contact my daughter."
When she eventually realised her daughter was safe, she said, it was a huge relief.
"We cried - he and me and her and everyone. When everything was over she called from the boat, and then she could show her emotions.
"We met her late on Saturday night when she and others from northern Norway were flown back on a hired plane.
"There were a lot of emotions. And there were these awful stories - they'd been in a war situation without the opportunity to defend themselves."
Julie has decided not to talk to the media herself, but was happy for her text exchange to be used by Norwegian media and the BBC.
"She's quite fine now," her mother said. "She's a tough girl. She's telling us about it, sometimes she's sad, and is mourning those who died.
"But we don't know anything about the long-term consequences.
"She knows at least five who were killed - some were really good friends. It's a tragedy."
Mrs Bremnes said Julie and other Labour Party youth activists would not be deterred from their views by Anders Behring Breivik and his actions.
"She was quite committed, occupied with social and political interests, and her work in the Labour Party. She wants to continue that interest - especially now.
"This is not going to kill their interest - if that was his purpose - it's the opposite, in fact."